"Should my Company introduce Employee Stock Option Plan ("ESOP") or not, is a common question we often receive from startup founders.
Our answer is a resounding yes. When done correctly, ESOP is a powerful tool to supercharge growth, strengthen organizational performance, and create wealth for both founders and Employees.
ESOP is an effective compensation tool. A prudently drafted ESOP plan can help an Employer to conserve cash, while at the same time letting Employees share in the profits and growth of the Company.
What are ESOPs?
An ESOP is an option that is granted to an Employee for purchasing the Company's shares at a pre-determined price, at a future date, upon completion of certain vesting conditions. These conditions may be performance based (of the Employer or Employee) or time based.
Upon fulfilling the vesting condition, the ESOPs vest to the Employee, i.e., the Employee gets an unconditional right to purchase the shares of the Company at the pre-determined price.
The objective is to motivate the employees to perform better and improve shareholders' value. Apart from giving financial gains to the employees, this also helps in creating a sense of belonging and ownership amongst the employees.
The best part of ESOP as a compensation strategy is that it offers freedom to link Employee reward with individual performance and Company performance.
WHY ESOPs are an Important Tool for Startups
Many young and newly established ones Companies, especially startups do not know how to manage and administer their capital amount and end up getting engulfed in problems related to liquidity. Such problems arises from "Limited or Inconsistent Cash Inflows", "Lucrative Salary Structures", "In-proper Employee budget expenses", "Low or no Equity Participation" etc.
Ignoring compensation issues can lead to unhappy Employees, low morale, decreased productivity and increased Employee turnover. Ultimately Startups start losing workforce when they become unable to provide attractive terms to retain their employees.
The following Statistics depict the attrition rate in India across different industries in 2021:
Attrition Rate(%)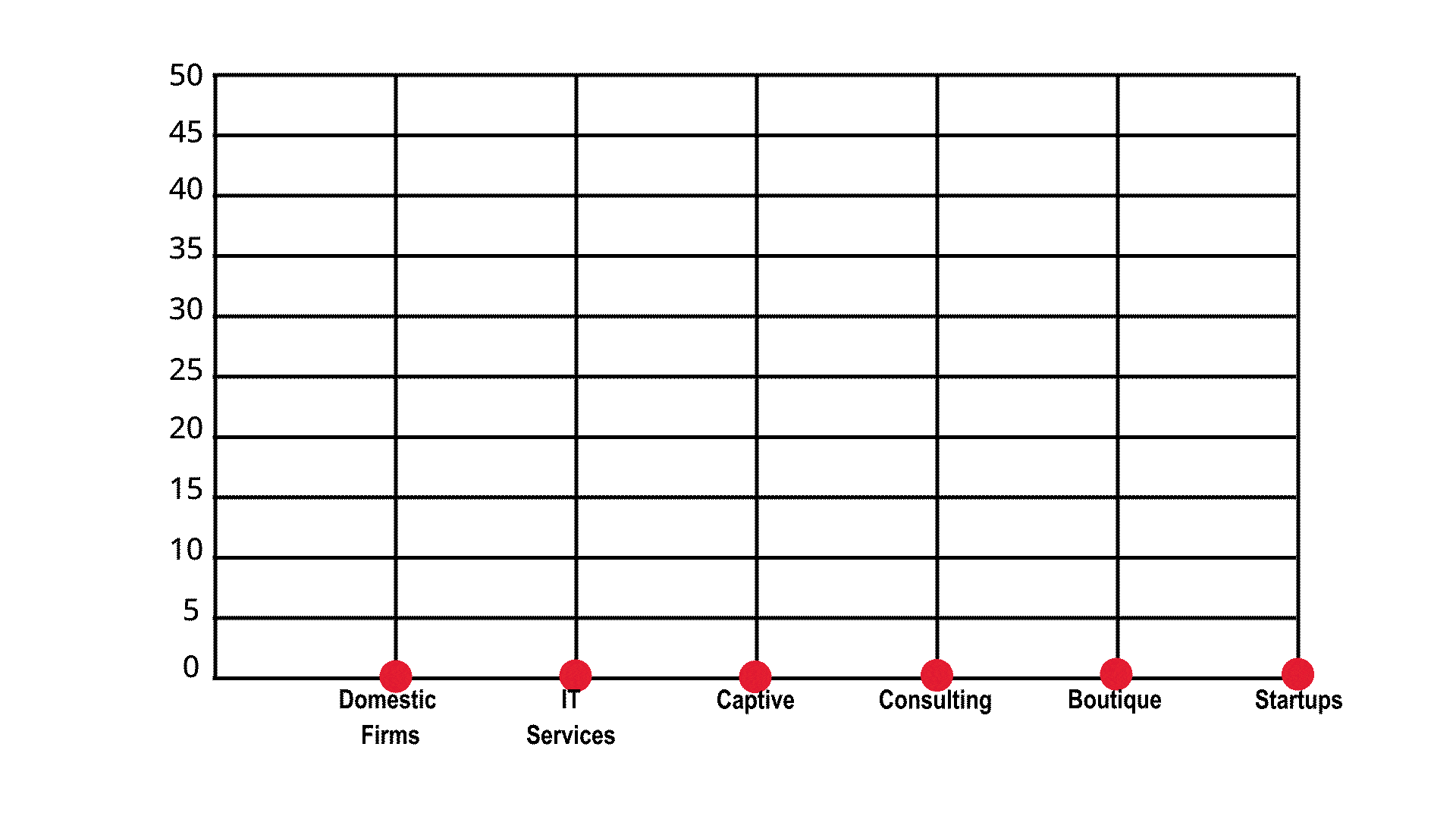 Source: https://analyticsindiamag.com/study-analytics-india-attrition-study-2022/
As we see from the above Statistics, the attrition rate is the HIGHEST in the Startup Industry. Thus Startups are most susceptible to losing key talent to other competitors.
Solution to this problem lies in implementing ESOP in the Company which plays a major role in motivating and retaining Employees to perform better by aligning their interest with the long term goals of the Company and ultimately helping in the growth of the Company.
Moreover, one reason for startups to use ESOPs is to attract talent while paying high salaries is not an affordable option for them. While early-stage companies may use it for employees across positions, growth-stage companies typically use it for compensating senior leadership and top employees during hiring as well as for retention.
Many Unicorn Start-ups in the last one year have introduced non-cash compensation components such as Employee Stock Option Plans (ESOPs) or have expanded their existing ESOPs to reward the performance of their Employees.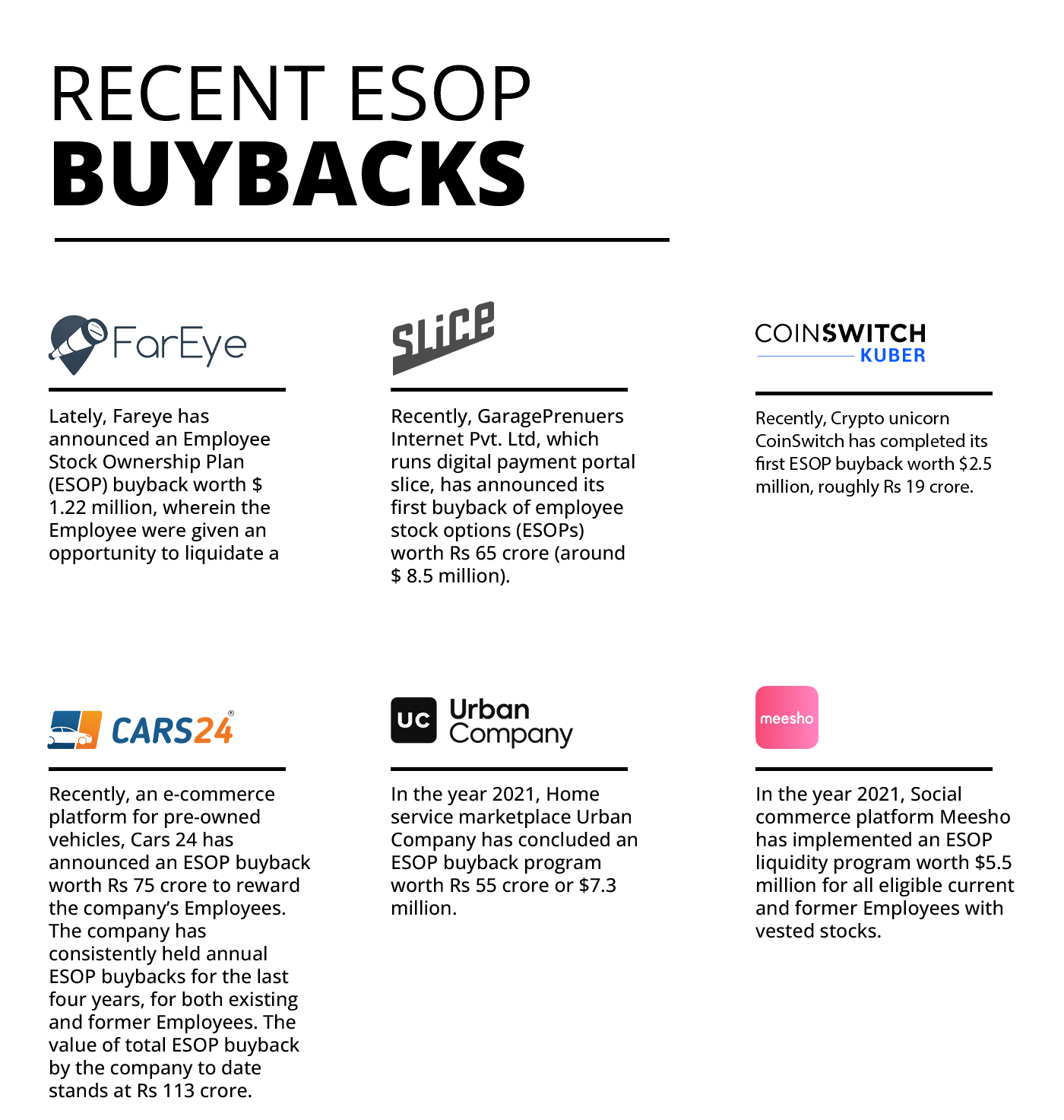 Besides listed Companies, it has been observed that many Unicorn Start-ups, specifically the unlisted Companies, have also given the opportunity to their Employees for the encashment of Employee Stock Options by implementing ESOP Buyback programmes.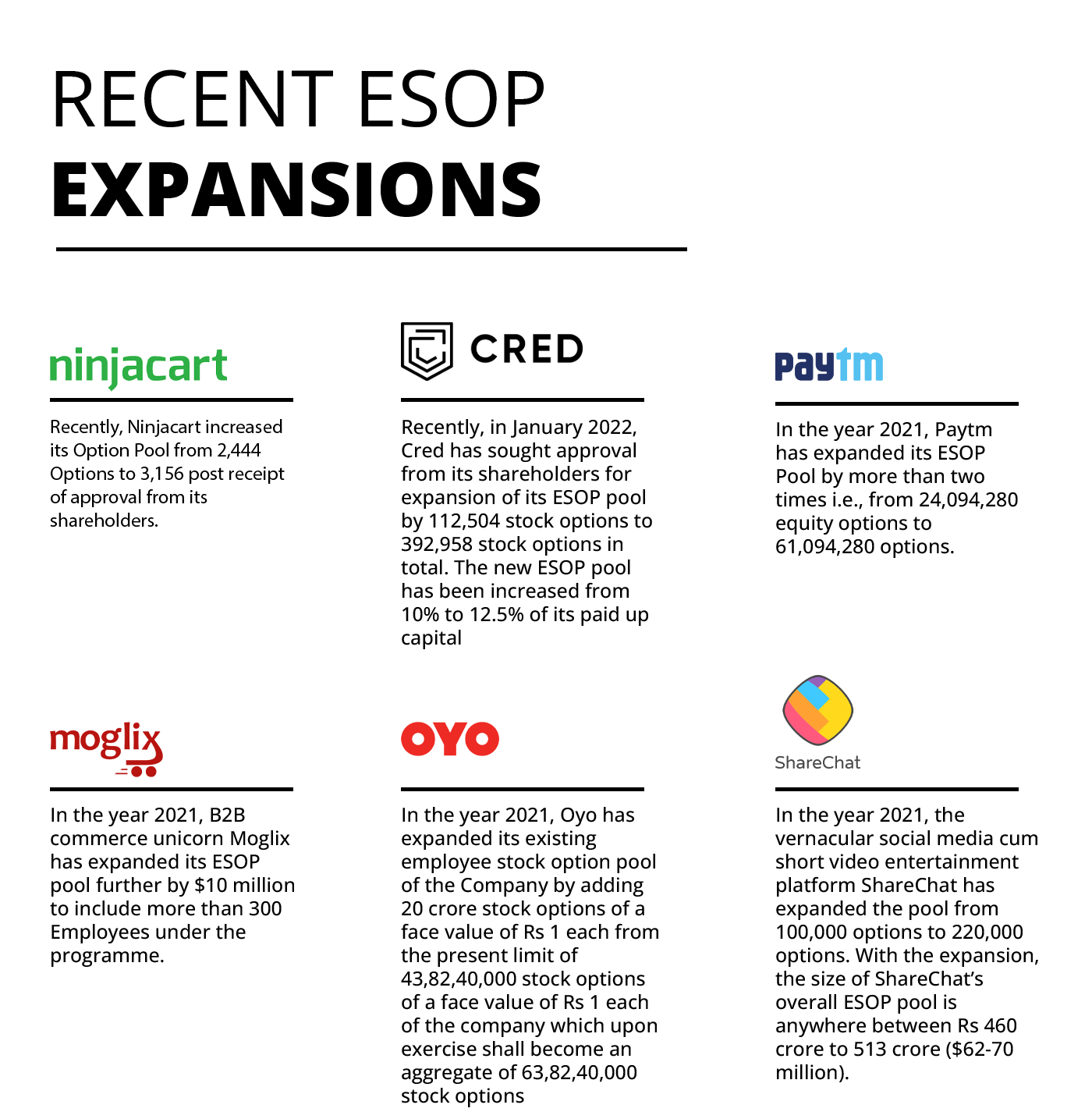 The slew of secondary sales and buybacks in the recent past by some of the marquee startups, such as Shadowfax, MPL, Cars 24, Meesho etc., will help to raise awareness among workers about the monetary value proposition of ESOPs in compensation packages. This, in turn, could also help companies in reducing Employee turnover as more Employees are likely to stay with the Company for longer to cash in on their holdings.
Further high value listings and then exit through IPO's of Companies like Zomato, Nykaa, Paytm and Policy Bazzar in the year 2021 further boosted confidence of Employees in Indian Start Ups.
MODERN EQUITY INCENTIVE PLANS
Due to change in workforce model, many organizations have introduced different forms of Equity Incentive Plans like ESOPs to incentivize their Partners, Gig Workers, Advisors etc. Some of these are as follows:
| | |
| --- | --- |
| Name of the Plan | Name of the Organization |
| Management Stock Option Plan (MSOP) | Vaibhav Global Limited |
| Partners Stock Option Plan (PSOP): | Urban Company |
| Advisors Stock Option Plan (ASOP) | Microsoft Corporation |
| Teacher Stock Option Plan (TSOP) | UnAcedemy |
INDUSTRY PRACTICE OF ESOP
Source: 'KPMG in India's ESOP Survey 2021'
ADVANTAGES & CHALLENGES INVOLVED FOR ESOP IMPLEMENTATION ADVANTAGES:
Increases shareholder value as Employees interest aligns with shareholders.
Incentivises and motivates Employees to work towards growing the Company.
Allows businesses to offer benefits or compensate personnel without impacting business cashflows.
Retention of key talents as it gives them reason to stay with your Company for the long-term, rather than joining a competitor with deeper pockets.
Can counterbalance reservations of Employees about salary reduction or deferred pay rise when being asked to take on more or different responsibilities.
Reduction in Employee supervision as they have a more vested interest in taking more responsibility for their work duties.
Encourages Employees to create more value through their work, which leads to engagement and innovation to solving key problems.
Improve job satisfaction, productivity, and job satisfaction.
CHALLENGES:
Adverse tax implications for the Employee if the ESOP is not planned and executed appropriately.
Liquidation Opportunities with the Employees also become a major challenge in the absence of ESOP being properly planned and executed.
Dilution of shares, meaning the Company owner's share in ownership shrinks.
Overall, where the ESOP is planned and executed appropriately, the advantages greatly outweigh the risks.
It is important to understand that the true benefit of an ESOP is only fully realised over time. Employers need to think carefully about the structure of their ESOPs and what they want to achieve from implementing the plan.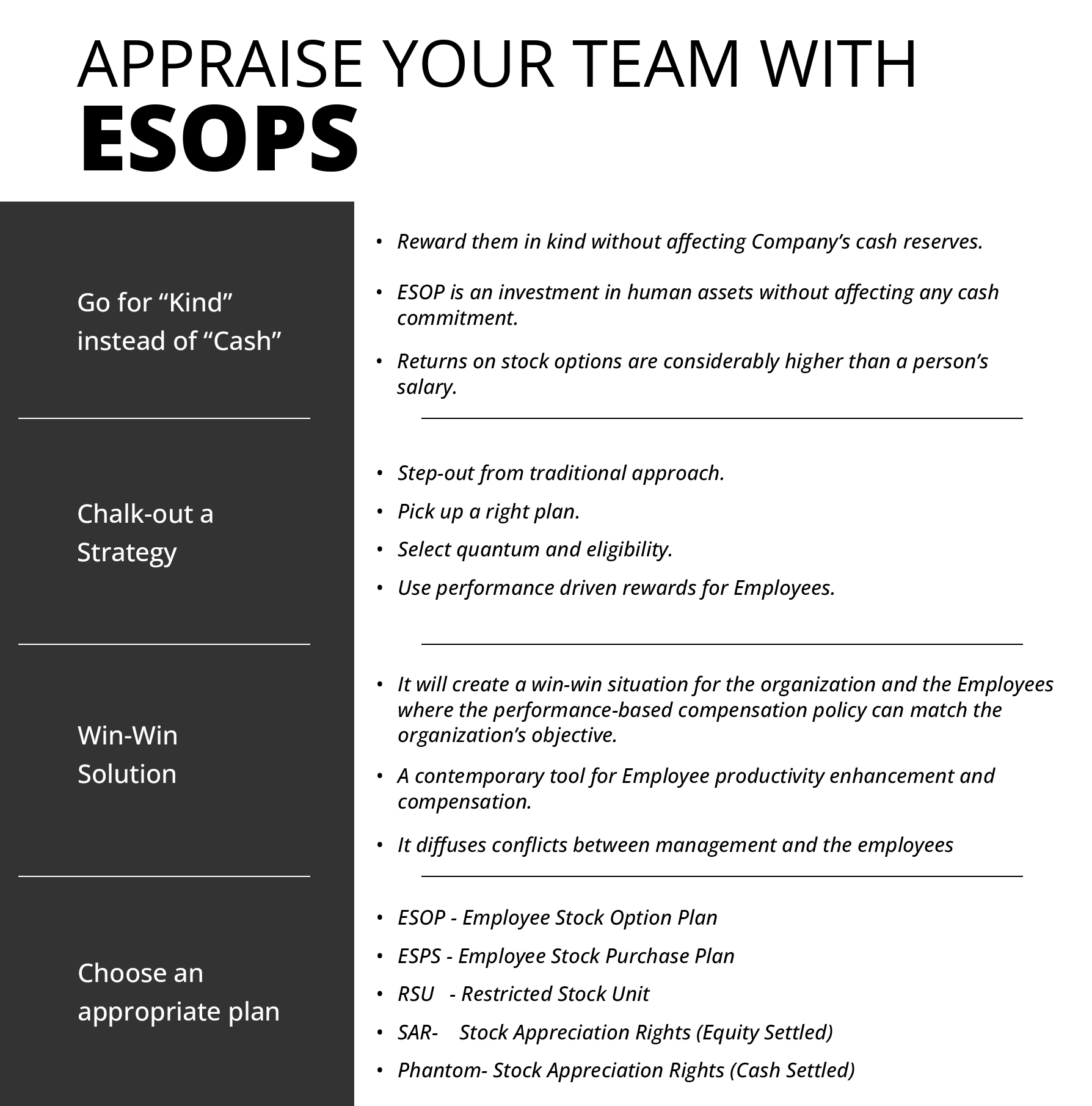 Corporate Professionals is the destination for all your ESOP related needs, be it Advisory, Preparation or Implementation. We under our umbrella "ESOP online" aim to build long term incentive plans that are customized to a particular organisation and its Employees. Competencies of our Professionals comprising Company Secretaries, Chartered Accountants, HR Experts and Lawyers with their expert knowledge on the subject would help you right from the Advisory and Preparation till the Implementation of an ESOP plan and thereby enhancing the overall productivity of the organisation.
Through our strong foundations and robust growth, we have emerged as a leading corporate advisor attaining an edge in providing services at internationally competitive standards, utterly justifying our brand Corporate Professionals.
We offer 360-degree package services under ESOPs as well as independent services.
To Know about our ESOP Management Services please visit at www.esopguardian.com